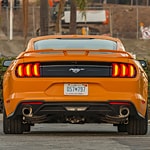 Ford Mustang is equipped with some of the most recent technology in the motor industry, which will significantly enhance your driving experience with just a buttons push. This automation has dramatically improved its handling capabilities.
Selectable power-assisted steering
Ford Mustang has a selectable electric power-assisted steering system. It has three modes; comfort mode, which requires the least amount of navigation, Normal way, which is a blend of the comfort and sport mode then the sport mode, which requires the most amount of steering effort.
Read More