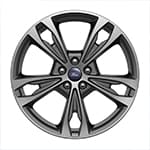 Great features make automobiles popular, and the Ford Fusion has these types of features. You can check out the Ford Fusion's features at Awesome Ford. If you don't fully understand why the Ford Fusion is a fan favorite, this blog post can help.
Convenient Moonroof

The Ford Fusion has a convenient moonroof that provides two advantages on the road. Whenever the cabin is dim, you can let natural light shine throughout the cabin by opening the moonroof. During the summer, the moonroof can lower fuel costs. While the roof is opened, plenty of air circulates around the cabin, so there is no need to run the air conditioning system, which consumes fuel.
Practical Storage Solutions

?If you just want to take a short trip during the weekend, you can store your luggage inside the Ford Fusion's spacious trunk. It has 16 cubic feet of space; this is about the length of an angled golf club bag.