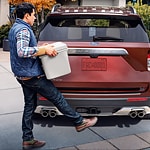 Aptly named, Ford Explorer is a popular three-row SUV that tackles daily driving needs in Chehalis as well as adventures on the open road. This ride has a bunch of trend-forward performance features to its credit. Here are two for your info.
No More Swaying Trailers
Swaying trailers have happened to all of us. Luckily, Ford Explorer's Trailer Sway Control helps you avoid this dangerous scenario. The feature informs you when your trailer is swaying. It also reduces engine power and brakes as needed to ensure stability.
The Famous EcoBoost
Explorer's EcoBoost engine never ceases to excite our team with its intelligent technology and sheer power. This engine combines direct fuel injection and turbocharging, delivering 350 to 400 horsepower and even more torque for all of your towing/hauling. Our Awesome Ford team doesn't advise speeding, but it's still thrilling to know that Explorer can approach a top speed of 140 mph owing to its standout capability.
Take a Ford Explorer for a spin today. Stop by our dealership for a test drive.