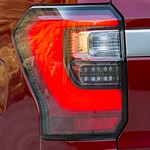 Massive in size yet stylish with its exterior chrome accents, the basis for the Ford Expedition's popularity is evident upon first glance. The SUV has so much offer in terms to those working or living in Chehalis. Here are just a few of its many features.
Not only does it look good, but its also formidable - making it one the largest vehicles in its class. When combined with proper adherence to weight distribution by the operator, the Expedition delivers greatly on its max towing configuration. Versatile towing packages yield much in the way of practicality across different terrain conditions.
Speaking of, a standard set of drive modes keeps the sizable SUV stable when visiting out-of-the-way landscapes. Whether on gravel, grass, sand, in snow, or mud, the Ford Expedition has an applicable protocol to handle everything. Come visit us at Awesome Ford for a test drive today.