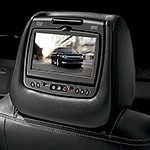 Ford is well known for their innovation and technological advancements in their vehicles. This is not only displayed but enhanced when it comes to the Ford Flex. The Flex is packed with tech that enhances both driver experience, safety and even convenience. The last part is notable with the Active Park Assist feature.
With the Active Park Assist feature, the Flex will automatically parallel park the vehicle successfully making your trips out that much more convenient. Using ultrasonic sensors, the vehicle is able to detect nearby vehicles and will prompt you to allow it the system's assistance to park the vehicle. You will only need to shift, accelerate and brake when instructed as the vehicle steers itself into the parking spot.
The Flex has many more technological features to appeal to drivers in the market. Come down to Awesome Ford today and see how the tech advancements will work for you.