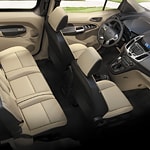 A Ford Transit Connect is a great transportation option for a road trip because it's a fully-equipped cargo and passenger van. In this blog post, you'll discover two reasons why you may want to use a Ford Transit Connect during your next adventure.
Convenient Charging
The process of charging devices in a Ford Transit Connect is never a hassle since it has wireless charging capabilities. Whenever you need to charge a phone, you can restore the its power by placing it on a wireless mechanism. Thanks to wireless inductive technology, you can completely recharge a battery quickly and conveniently without using cables, plugs, or ports.
Practical Doors
The Ford Transit Connect has sliding doors that make the process of loading and unloading cargo easier. On the bottom of each door, there is a step that's less than two feet tall. This practical design prevents accidents when passengers enter or exit the cabin. You can test the doors and each step at Awesome Ford.